Human Powered Bean Thresher for Small-Scale Legume Production in Zambia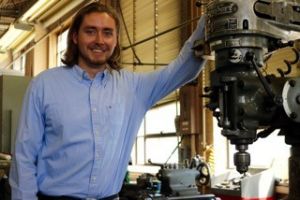 Adam Lyman is the Project Manager & Design Engineer of the Small Scale Bean Thresher Project at Michigan State University.  Lyman graduated from MSU in 2015 with a B.S. in Mechanical Engineering, and a minor in Philosophy focusing on international development. 
During his undergraduate study, Lyman developed two small scale bicycle powered bean thresher prototypes as part of a team of fellow students targeting pigeon pea farmers in Guatemala.  After evaluating the machine in Guatemala during his last year in the engineering program, Lyman discovered that the concept of a small scale bean thresher had potential to be applied on a global scale.
"Taking an idea from concept to a working prototype is an exhilarating experience.  But being able to then take that concept and get feedback from target beneficiaries, in this case farmers in Guatemala is even more powerful.  Having a chance to interact with farmers to understand their frustrations and difficulties really ignited a passion and desire to spend my time and energy to allow an underserved population save their time, energy and resources through technology intervention."  
After returning from Guatemala, Lyman assembled a team of faculty members at Michigan State and foreign institutions committed to making an impact in small-scale agriculture.  Michigan State University's Global Center for Food Systems Innovation awarded Lyman and his team a competitive research grant to start development on an all-new prototype, in an all-new country: Zambia.  A landlocked, rural country in the heart of southern Africa, much of the agricultural production is placed on the backs of small-scale farmers who are still using traditional, hard manual labor farming practices.  
Beans are an important crop supporting the livelihoods of farmers in this region.  However the post-harvest processing of beans is extremely labor intensive. Lyman is designing a new low-cost, low-technology machine aiming to increase bean processing efficiency by up to ten times.  Doing so would add value to farmer's crop, conserve resources, and provide an opportunity for entrepreneurship. Women are typically responsible producing beans, and would be the primary beneficiaries of the proposed mechanized intervention.
"During this past 2016 harvest season I led a team of scientists into the farming communities to demonstrate the new threshing prototype to farmers and evaluate their feedback.  The results were overwhelmingly positive, especially among women.  It was common for the women farmers after trialing the machine to be so overjoyed with the possibility of reducing their huge labor  that they would break into song and dance.  From a design and research perspective, that's the response you strive for.  From a human perspective, that's why we're out here."
Click here to watch a brief video about his project.